Our Suppliers: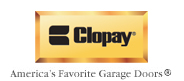 Clopay Building products has been a trusted leader of residential and commercial doors for over three decades. The Clopay brand of garage doors has the distinction of being the only garage door company to earn the Good Housekeeping Seal of Approval for its residential garage doors.
In 1950 Weather King Windows and Doors started as a small shop in the city of Detroit providing only storm windows and doors to local clients. Since then our company has grown to manufacture a full line of window and door products. A combination of years of experience and a dedication to quality allows us to provide a variety of home improvement products that sell across a large section of the Mid-west.
Polar Seal is a family owned and operated business, offering quality Michigan made products.
North Star windows all use energy-saving Low-e glass, and have limited lifetime warranties.
Weatherproof windows are locally manufactured in Jackson, Michigan.

Richards-Wilcox is a Canadian company that has been manufacturing quality garage doors since the early 1900's.
GLASSource specializes in glass and mirror products for industrial and specialty purposes. For over 30 years, GLASSource has serviced glass shops, cabinet shops, store fixture manufacturers, industrial showcase shops, office furniture suppliers and home furniture manufacturers.