Storm Doors
Storm doors are a great way to increase the energy efficiency of your home. Designs are available for a variety of door shapes, including arched and eyebrow.
Other Doors
Our Suppliers:
In 1950 Weather King Windows and Doors started as a small shop in the city of Detroit providing only storm windows and doors to local clients. Since then our company has grown to manufacture a full line of window and door products. A combination of years of experience and a dedication to quality allows us to provide a variety of home improvement products that sell across a large section of the Mid-west.
Weatherproof windows are locally manufactured in Jackson, Michigan.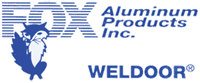 Attention to details distinguish a masterpiece from a pretty picture. A stunning home from a nice house. And a Fox Weldoor from an ordinary storm door.