Entry Doors
We sell and install steel and fiberglass entry doors and sidelights. We recommend fiberglass doors because they don't dent or rust like steel, and have a great warranty. Fiberglass doors are available in many different styles and sizes with a smooth finish or woodgrain, and can be factory stained or painted in a wide variety of colors. Stain grade door jambs are also available. Custom height and jamb thicknesses can fit almost any need.
Choose locking hardware with a lifetime finish for your doors, and have us key them to your other doors to complete the installation!
Other Doors
Our Suppliers: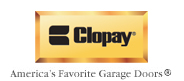 Clopay Building products has been a trusted leader of residential and commercial doors for over three decades. The Clopay brand of garage doors has the distinction of being the only garage door company to earn the Good Housekeeping Seal of Approval for its residential garage doors.